School with the Best Sports Facilities
---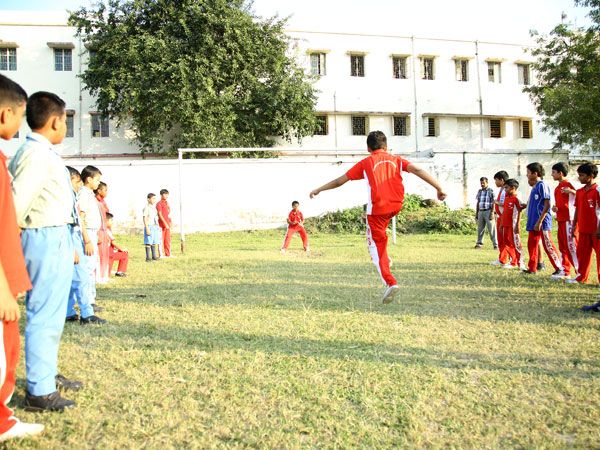 Children have the most amazing imaginations, in fact, they can pretty much play with anything. They have that magical ability to take something as simple as a cardboard box and turn it into something else. While they are quite capable of keeping themselves entertained with their own games and make-believe worlds, our immersive school playground, and best sports facilities can make their make-believe world real for them.
Therefore, we provide the best sports facilities to students of both all age groups with a big sports ground to help them venture into their sports interest and bring their imagination to life.
The games curriculum at The Kalyani Central Model school is a compulsory part of the educational process, which makes us unique and one of the best schools in Nadia.
Games offered :
---
Cricket, Football, Athletics, Tennis, Basketball, Volleyball, Swimming, Rock Climbing, Archery, Roller skating, Rifle Shooting, Table Tennis, Chess, Badminton. Best Coaches of Kalyani guide the children.
The juniors have modified games for developing gross motor skills.
Our unique and best sports facilities include the following: The Multi – Gym in school helps the students practice gymnastic exercise. Regular P.T. classes and games for juniors and inter-house contest in major outdoor and indoor games. The best health clinic takes care of the fitness and health, of the students in Kalyani Central Model School.
How do you know we have the best sports facilities in Kalyani?
How do you know we have the best sports facilities in Kalyani?
ANNUAL SPORTS: There is Inter-house Competition in Annual Sports. The winner is selected by counting the points obtained in different events.
Inter-house March past Competition is held at the in August programme of Annual Sports.
Interhouse Competition are held in

Football
Cricket
Badminton
Kabaddi
Throwball
Table Tennis
Yoga
We can proudly say that no other school can provide with such variety of sports activity, and thus this is what makes us the school with the best sports facility in Kalyani.